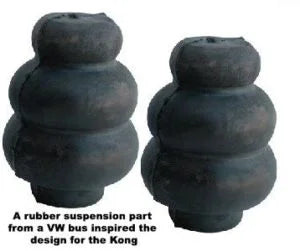 CELEBRATING 47 YEARS OF KONG
As we celebrate 47 years, we thought we would take a look back through time at the product that started it all, the KONG Classic.
KONG dog toys were invented by Joe Markham, who owned an auto shop in Denver, CO. When Markham owned the repair shop in 1970, the shop was prone to theft and with the inability of the local police to protect his business due to staffing, he was encouraged to get a guard dog.
The KONG Classic begins. Fritz, the German Shepherd who is responsible for the discovery of the power of the VW part that would eventually become the blueprint for the KONG, is shown holding his favorite toy.
Enrichment in the animal kingdom goes beyond dogs and cats. KONG works with several non-profit organizations which rescue and rehabilitate a wide variety of species. One of those being  chimpanzees.

Chimp Haven is a sanctuary in Louisiana dedicated to the long-term care of chimpanzees. Their specialized Behavior Team provides a tailored enrichment program for each chimp. Part of their daily enrichment program includes KONG-time, to provoke the same natural behaviors these chimps would perform in the wild. KONGs fall into food and environmental enrichment activities to help work on their foraging skills.

 
 

We have been honored to provide KONG donations each year to help enrich the lives of these chimps, as well as other animals in the world of rescue and rehabilitation.
KONG: THE UNIVERSAL LANGUAGE OF LOVE
The unmistakable shape and color of the KONG Classic has become a universal symbol of enrichment.
We have seen the difference enrichment can make in the lives of animals in rescue—whether they are waiting to be adopted, are in rehabilitation, or finding refuge in a sanctuary. A KONG brings a sense of hope, calm, and joy to animals in these kinds of care. Since 2020, KONG has donated over 250,000 toys to animal rescue organizations worldwide.