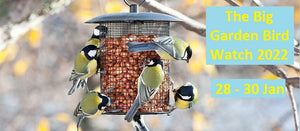 Be wowed by your local wildlife. Big Garden Birdwatch is for everyone, whether you're a complete beginner or a birding expert. Simply count the birds you see in your garden, from your balcony or in your local park for one hour between 28 and 30 January 2022.
How to take part in Big Garden Birdwatch
Taking part is as easy as 1,2,3
1. Watch the birds around you for one hour
2. Count how many of each species of bird lands on your patch
3. Go online and tell us what you saw

Please check the relevant country's Covid guidance for the latest information as guidelines are subject to change and vary between England, Wales, Scotland and Northern Ireland. Enjoy your birdwatch and please take part safely.
How to attract birds to your garden
Bring all the birds to your Birdwatch with our expert advice and top tips on what and how to feed the birds. Last year over one million people took part, counting over 17 million birds. That's a lot of birds flocking to feeders!

Find out from our experts how you can attract birds to your garden during Big Garden Birdwatch – and throughout the year. No garden? No problem! Even a small window feeder can make a big difference. Get our top tips now.
Watch Big Garden Birdwatch Live!
Tune in to Big Garden Birdwatch Live for expert commentary from across the UK, as well as interviews and chat with special guests and wildlife experts. This is your opportunity to ask our experts any questions you may have, and to share your pics and stories with the Big Garden Birdwatch community. We'll be live across the Big Garden Birdwatch weekend from Friday 28 to Sunday 30 January. Be sure to drop in!